Europe Travel Checklist: Don't Leave Home Without It

By

Daniël de Jager

Edited by

Joel Taylor
Published May 7, 2023.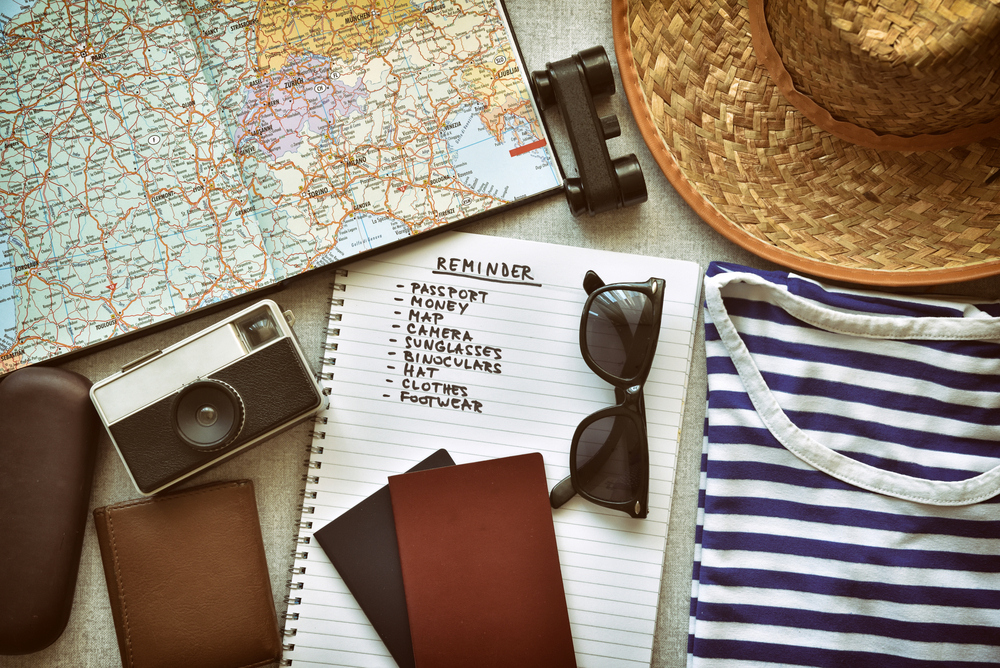 So you've heard of all the great sights and tourist attractions Europe has to offer and decided to travel there? Great choice! But now things get practical. Below we've created a comprehensive checklist of items to bring and things to consider when you plan a trip to Europe. It's of vital importance that you use a checklist like this one to keep track and ensure you're covering all your bases before you set off on your journey.
» Discover how to get the best online hotel deals
Quick Check
1. Documents and Paperwork
Passport and visa requirements

Travel insurance

Health documents

Emergency contacts
2. Access to Your Money
Credit/debit cards

Currency exchanges/ATM access
3. Technology Essentials
Adapters and converters for European outlets

Essential devices (power banks, laptops, phones)

Chargers

Navigation and translation apps
4. Clothing and Accessories
Clothing for all weather types

Comfortable shoes for walking/hiking

Bags/backpacks
5. Toiletries
Soaps and shampoos

Toothbrush and toothpaste

Sunscreen

Moisturizer
1. Documents and Paperwork
First things first, you need to get all the proper documentation required to travel to Europe. Without these, you won't be able to book flight tickets or be allowed into Europe at the border.
Passport and Visa Requirements
Your passport is the most important document you have, and you should keep it with you at all times. It's a no-brainer that you need one of these to travel to any country outside your own.
Visa requirements for entering the Schengen zone (which includes most of Europe) will vary depending on the country your passport was issued in. If you're from Western countries like the USA, the UK, or Canada, you won't need a tourist visa for short stays. See the EU's official list here.
I've learned that getting a visa is a lengthy process that requires many documents depending on the specific type of visa you need and what your current status is, so start this process as soon as you can.
Travel Insurance
A Schengen visa requires you to have sufficient travel insurance, and even if it wasn't required getting insurance is still a good idea to keep you covered in case of any eventuality.
Health Documents
Since the COVID-19 pandemic, many countries require proof of vaccination and/or a COVID-19 test before you enter. However, the EU currently imposes no restrictions and doesn't require any proof of vaccination or a negative COVID-19 test.
Emergency Contacts/Important Phone Numbers
As with travel insurance, having emergency contacts in place in case of an emergency is a must. Keep a list of your emergency contacts' names, international phone numbers, addresses, and relation to you with your documents.
Other Documents
There are other documents you might need depending on your specific situation (like an unabridged birth certificate if you're traveling with your child). Be sure to do some research and talk to a travel agent about your trip beforehand.
» Using Booking.com? Here's how to get the best Booking.com deals
2. Access to Your Money
Part and parcel of travel is spending money, and you'll want to have quick, easy, and inexpensive access to it in the local currency. It's also essential you understand the expected costs, as they can be influenced by many different factors such as region, planned activities, and travel duration—one month in Europe will cost much more than a couple of weeks.
Credit/Debit Cards
Your credit or debit card is your best friend on trips like these. They usually offer great travel perks, inexpensive currency conversions, and almost universal usage options at card machines in shops, hotels, and restaurants. This is much safer than carrying cash or travelers' cheques (which are being phased out). This has saved me many headaches and stress over carrying cash.
Currency Exchanges/ATMs
You can use currency exchanges at the airport or in town, but these often come with hefty fees and bad conversion rates. If you need hard cash, withdraw bulk sums at ATMs to save on fees and always use bank ATMs (not "independent" ATMs like Travelex, Euronet, Moneybox, Cashzone, and Cardpoint).
» Short on cash? Learn how to travel Europe for less money
3. Technology Essentials
Adapters and Converters for European Outlets
You need power adapters to fit your chargers and cables to European standards (a flat, two-pole, round-pin plug) and then convert the voltage as necessary (Europe uses 250 volts, while the USA uses 110 volts). After forgetting this once, I now always bring a multiplug with me that can handle many different countries' standards.
Essential Devices and Chargers
Don't forget to bring your phone and any other devices you may need (such as power banks, laptops, and tablets) as well as all chargers and accessories.
Navigation and Translation Apps
You're not guaranteed to have an internet connection when you get to Europe, so install navigation and translation apps beforehand and download maps and languages offline just to be safe.
» Traveling Europe alone? Here's how to plan your trip
4. Clothing and Accessories
Equipment for All Seasons and Activities
Europe is home to many different climates, so you'll want to research the weather conditions of where and when you're going to be sure you're packing the right stuff.
Cold climates (Scandinavia)

These countries are cold even in summer. Be prepared for snow, chilly winds, and cold rains. Layer well and buy good quality jackets and grippy shoes. I've made the mistake of just bringing sneakers before and had a sore bum to prove it!

Temperate climates (Central, Western, and Eastern Europe)

Most of Europe is more temperate, with cold, snowy winters but warmer summers. You should still pack warmly but have cooler clothes for the summer.

Warmer climates (Mediterranean)

The Med is usually nice and warm, even during the winter months, so pack lighter, cool clothing. Still, don't forget a jacket or two.
Remember to pack any formal wear if you're planning on going to formal events or fancy restaurants. If water activities are involved (especially in the Mediterranean), pack swimsuits as well as hats and sunglasses to protect yourself. If you're going to be doing any activities like skiing, hiking, or cycling, be sure to pack the right clothes for that too.
Comfortable Shoes for Walking and Exploring
Walking and exploring are part and parcel of traveling and your feet will be going through a lot. Pack comfortable shoes (waterproof, grippy ones if you're heading to snowy places) that can take a beating and still keep your feet comfortably on the ground.
Bags/Backpacks
It's very important you have good bags and backpacks to store all your possessions in. Have some travel bags and comfortable backpacks for carry-on during the flight and keep your essentials in while you explore. I prefer bringing strong and spacious hiking backpacks even if I won't be actually hiking.
» Travel often? Make use of the top hotel rewards programs
5. Toiletries
Toiletries are essential since you never know what will be available for purchase in the country you're going to. You'll certainly find the basics, but it's best to bring your own:
Soaps and shampoos

You're probably going to get dirty, so keep your shower or bath items close by. Soaps, shampoos, conditioners, gels, and more all need to be packed.

Toothbrushes and toothpaste

Nobody likes stinky breath. Pack your toothbrush, toothpaste, floss, and mouthwash if you need it.

Sunscreen

Even in colder climates, you can burn easily. The sun reflecting off of water and snow can turn you into a red tomato in no time. Always pack sunscreen and remember to apply it.

Moisturizer

Flying and colder climates tend to agitate and dry your skin. Pack some skincare products like moisturizers to keep your skin soft and fresh.

Beauty products and perfumes/deodorants
Don't make the mistake I made: remember to only pack travel-sized bottles for your carry-on luggage! Airlines have restrictions on how big the bottles can be, usually 100mL/3.4oz. You can buy travel-sized plastic bottles at some stores and then pour out your soaps, shampoos, conditioners, and more into them.
Save Our Checklist for Future Use
And your list is done! Good practice is to make a personal packing list, pack well before your trip, and then walk around your house to see if you've missed anything. Print out our handy checklist and add whatever essential items you don't want to forget, and don't forget to make your bookings through CashYo to save extra cash for your European holiday.