Traveling Europe Alone? Here's How to Plan Your Trip

By

Marcel Deer

Reviewed by

Nevena Radulović

Fact-check by

Joel Taylor
Updated May 4, 2023.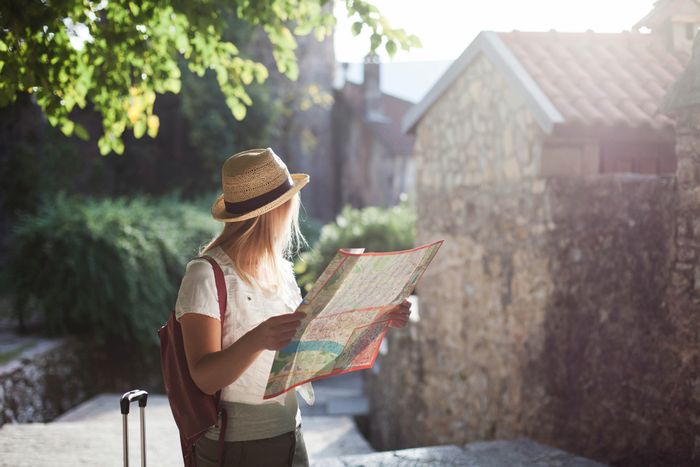 Whether you're a seasoned traveler or just starting out, traveling alone in Europe can be an exciting and rewarding experience, but it can also come with some challenges. However, planning for your trip can help make your journey smoother and minimize any risks.
While planning your adventure may seem daunting at first, especially if you're a go-with-the-flow type of traveler, the helpful tips below can simplify the process.
» Using Booking.com? Here's how to save money through Booking.com
Pick Your Destinations
Before booking a hotel room or your flight, research your desired destinations. Knowing exactly what you want to visit and what activities you'll undertake can help you pick the best places to stay.
When picking your destinations, consider your purpose for the trip—do you want to explore the local culture and history and try out local cuisines, or do some soul-searching and hike a few trails? Once you settle on that, picking a destination that offers what you're after the most will be much easier.
Best Places to Solo Travel Europe
It's important to prioritize personal safety when traveling alone, especially if you're a female traveler going solo for the first time. Some European places are generally safer than others, so research your destinations thoroughly beforehand.
Prague, Czech Republic

Prague is a well-known solo travel and backpacker-friendly destination due to its general affordability, ambiance, and large expat community. The city's Bohemian culture gives it a laid-back vibe, while the historical spots offer a rich cultural experience solo travelers can enjoy.

Budapest, Hungary

Known as the "spa capital of the world," Budapest offers an excellent spot for solo travelers looking to unwind and drink at local bars, visit bathhouses, and mingle with friendly locals.

Amsterdam, Netherlands

Amsterdam is the perfect destination for those looking to party. Known for its vibrant nightlife, Amsterdam has a lot to offer, from museums to scenic attractions. The city also has an excellent biking infrastructure and public transport system, so getting around on your own is super convenient.
» See our top places to travel without a passport
Safest European Countries for Solo Female Travelers
According to a report by the luggage brand Kipling, some of the top European destinations for solo female travelers based on activity offerings, transportation options, popular attractions, equality, and safety include:
Germany

Hamburg and Munich were hailed as the top two destinations for solo female travelers. Apart from Munich being the eighth safest city in the world, both cities offer great culture and entertainment options for solo female travelers to enjoy with peace of mind.

Scotland

With reports of street harassment and theft being rare, Edinburgh is known as a great city for women and LGBT+ solo travelers in particular. Plus, it boasts rich history and cultural scene, and solo travelers can enjoy picturesque cobbled streets, buildings, gardens, coffee shops, and thrift stores.

Ireland

Ranked the tenth safest country in the world, Ireland is incredibly welcoming and inclusive, so female travelers should feel safe while exploring it solo. Dublin, in particular, is home to literary greats (like Oscar Wilde and James Joyce) and the legendary Guinness, guaranteeing an experience rich in history, good beer, and great food.
Plan Your Stays and Book Accommodation
Having chosen your perfect travel destination, the next step is to find accommodations suitable for solo travelers. The best accommodation type for your trip will depend on your needs, budget, and preference.
Other than the usual options like hotels and hostels, alternative accommodations like Airbnb offers a unique and homey experience but might require more advanced planning. Some other alternatives include eco-lodges, homestays, and farm stays that will allow you to immerse yourself in local culture better.
» Looking for a cheaper stay? Here's how to get the best online hotel deals
Plan Travel Options
To ensure the best experience while exploring Europe as a solo traveler, consider using available train services or budget airline options when planning your transportation needs. Book travel options well before your trip and make an itinerary to maximize your time and avoid last-minute stress.
Stay Safe While Traveling Europe
Having fun doesn't mean foregoing safety, so take the necessary precautions to ensure a safe and enjoyable trip. Make sure to take the following precautions when traveling alone:
Always let someone know about your travel plans

Carry an up-to-date map and make sure you have a reliable source of communication

Avoid walking alone or at night in unfamiliar or isolated areas

Research public transportation schedules
Make the Most of Your Solo Europe Trip
Traveling not only helps you experience new things but also builds lasting relationships, so traveling alone doesn't mean you'd be lonely or scared. In fact, there are many ways for solo travelers to meet friends, such as joining local tours, attending social events hosted by hostels or cafes, or even taking language classes.
When traveling through Europe alone, planning your trip beforehand will ensure a safer and more organized experience so you can focus on exploring your destination, meeting locals, and making new memories.
» Earn cashback on your flights and accommodation through CashYo