Agoda vs. Priceline: Features, Prices, and Best Choice for 2023

By

Marcel Deer

Reviewed by

Joel Taylor
Updated March 30, 2023.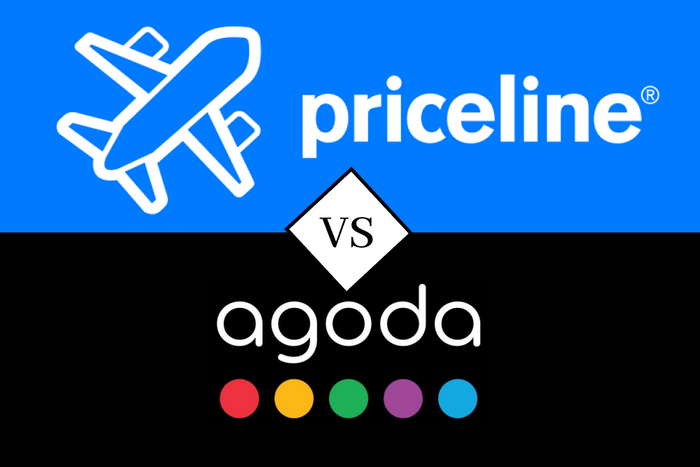 One of the best ways to streamline travel planning (and save money) is by using a travel website to find good deals for flights, lodging, and activities. Travel sites like Agoda and Priceline offer competitive prices and a range of features, helping you find the best value for your budget.
In this article, we will compare the features and prices of Agoda vs. Priceline for 2023 and recommend which site is the best choice for your travel needs.
Agoda Vs. Priceline: A Summary
Both Agoda and Priceline are great travel websites for finding flights and hotels. Depending on your destination and budget, you can also book rental cars, cruises, and tourist activities on both platforms. Agoda and Priceline are sister companies, with Priceline acquiring Agoda in 2007. However, their features remain distinct, and they continue to offer specialized deals and promotions for travelers of different budgets.
» Unsure about these platforms? Consider Booking.com and Hotels.com instead
Agoda: Key Features and Pros & Cons
Pros
Available in 38 languages

Over 2 million available properties

Availability in 200+ countries

Suits many budget ranges

VIP discounts and deals for members

Built-in loyalty program

Lower fees compared to other similar platforms

Accepts PayPal and all major credit cards
Cons
Difficult to get refunds

The cancelation process can be tedious

Higher taxes in certain cities

Some users report bugs on the Android and iOS apps
Agoda is well-known in Asia and continues to be a leading online hotel reservation service in the region. The website is trusted by many travelers looking for a wide range of flight options and accommodations to suit every budget, from luxury villas and hotels to budget hotels, apartments, and homes for rent. Its services remain focused on offering the lowest available hotel prices, and its hotel network includes more than 40,000 properties.
Pricing and Fees
Regarding pricing and fees, Agoda offers many coupons and insider deals to help travelers save money, such as 15% off during special occasions (holidays, summer, Valentine's, etc.). Agoda also has a VIP membership package that interested customers can sign up for, with the following benefits:
Up to 25% VIP discount

Agoda's Best Price Guarantee on bookings

Exclusive perks on select properties

Access to insider deals and VIP discounts

Earn and redeem AgodaCash, the platform's loyalty rewards program
Agoda also accepts payments via PayPal and all major credit cards, including Master Card, AMEX, Visa, JCB, and Carte Bleue. Payment information is also securely saved on the user's account for easier checkouts in the future. However, an additional 10% to 25% for taxes and service charges may be added to the total booking cost, so keep that in mind when budgeting for your trip.
Customer Service
Agoda offers customer support in multiple languages, with a customer support team available via phone, email, and chat. Agoda's dedicated customer support team is trained to assist guests in finding the best deals and offer help in changing or canceling bookings.
» Get up to 4% cashback from Agoda
Priceline: Key Features and Pros & Cons
Pros
Great deals when using the app

Great deals for free VIP members

Over 600,000 available properties

Great customer service availability (24/7)
Cons
Not as many payment options

Strict and unsupportive refund/cancelation policies

Unintuitive app that doesn't match the website info
Priceline was founded in 1997 and has since provided travelers with access to deals for hotel rooms, airline tickets, cruises, and vacation packages. Priceline has access to over 600,000 properties across various locations and offers customers affordable accommodations via their Best Price Guarantee.
Pricing and Fees
Priceline's multi-tiered VIP membership program offers members additional ways to save and score good deals. The first tier grants VIP status upon sign-up and offers benefits such as:
Priceline's Best Price Guarantee

Hotel savings of up to 10%

VIP rental car discount of up to 10%

Add-on deals of up to 50% off on hotels and 20% on cars for add-ons to existing trips

5% extra deals coupons
Members advance in tier after completing a certain number of trips, with savings and deals increasing as they go up each level:
VIP Blue: 2 completed trips

VIP Gold: 5 completed trips

VIP Platinum: 25 completed trips
Priceline accepts payments via Visa, MasterCard, AMEX, and Discover.
Customer Service
Priceline's VIP Gold and VIP Platinum members enjoy Priority and First Priority status on all customer service concerns. Priceline's customer support team is available via chat, SMS, call, or WhatsApp to assist customers with reservation concerns, cancelations, booking inquiries, and more.
» Don't overpay for your stay: our tips for cheaper hotel bookings
Final Verdict: Which Is Best?
While both websites offer customers a wide variety of deals for international travel needs, Agoda offers a smoother customer experience with its modern and responsive desktop, tablet, and mobile sites, allowing for quick and powerful searches every time.
One of the cons that most users identify with Priceline is that its website and app are not user-friendly, with users needing to go through many steps and filter quite a bit of information before getting the deals they need.
With that in mind, it's clear that the winner is Agoda due to its extensive list of pros that far outweigh its cons and even the pros of Priceline.