MyUS Review—Is MyUS Reliable for Safe Shipping?

By

Marcel Deer

Edited by

Joel Taylor
Updated January 19, 2023.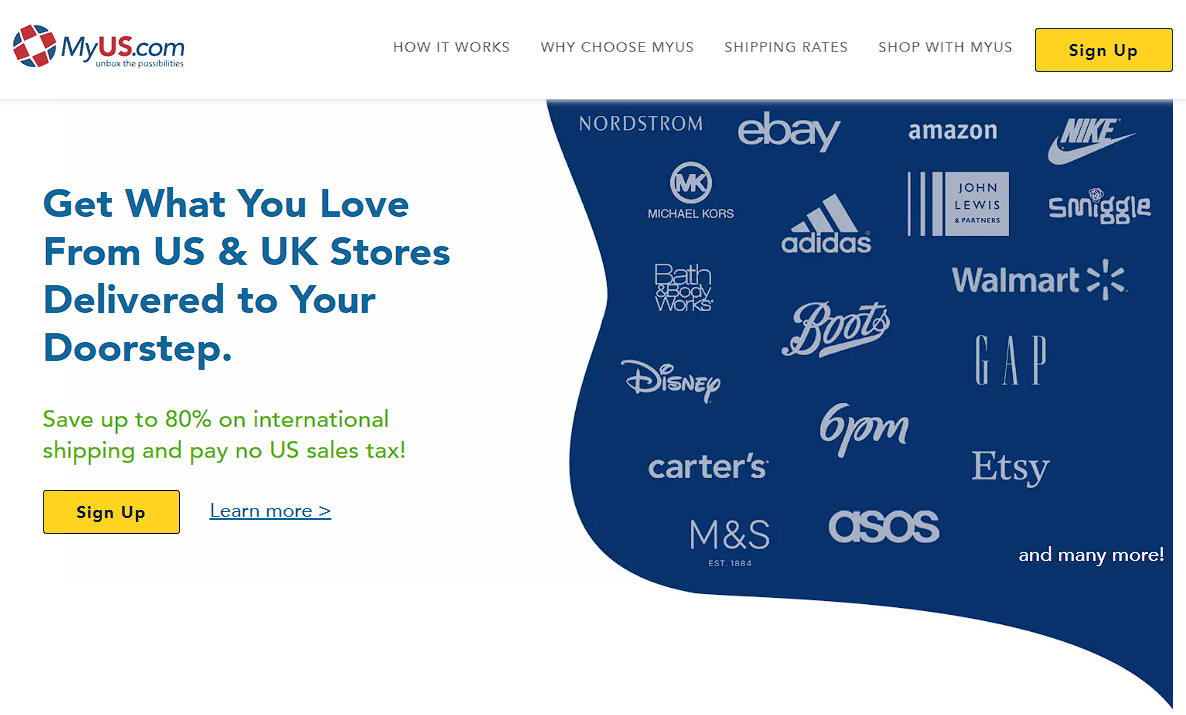 Online shopping has grown in popularity, with many retailers offering irresistible products and offers. But what happens if you want to buy from U.S. stores like Barnes & Noble, Kylie Cosmetics, or Net-a-Porter, which don't ship internationally? A third-party company is the best solution.
Package forwarding companies like MyUS help get your purchases across international borders legally and safely. Here's everything you need to know about this platform so that you can make the most informed decision.
MyUS Pros & Cons
Pros
Reasonable prices

Easy signup

Fast shipping processes

Reliable customer service
Cons
Hidden charges

Slow response times
Key Features of MyUS
MyUS has been serving shoppers since 1997. The effortless processing of international orders and good customer service has made the company a popular choice. Here are some of its key features:
Shipping Locations
MyUS can ship almost anywhere in the world aside from the US and the UK. It serves over 220 countries and territories, including:
Hong Kong

Maldives

Australia

Japan

Angola

Canada

United Arab Emirates

South Africa

India

And more
Shipping Times
All shipping requests are processed within 2-3 business days, and depending on your location, you can expect your package in 1-2 weeks. If you're in a rush, you can expedite your shipping request at an extra charge.
International priority delivery takes 1-4 days, and economy shipping 7–10 days after your order arrives at the MyUS warehouse.
Customer Service
If you encounter any problems, MyUS agents will be ready to answer your questions quickly and efficiently by assigning a representative to handle your order and answer any questions you have. The buying assistant can also make purchases for you.
MyUS can sometimes take up to two days to respond. But, although slow, the customer service representatives always assist you with any problems.
MyUS Pricing
MyUS doesn't have standard pricing. You can use the shipping calculator provided to estimate shipping costs.
Pricing is straightforward since costs are calculated based on shipping destination and package weight, not dimensions. Then again, this process is limited to goods smaller than 72 inches.
MyUS also allows consolidating multiple packages to save on shipping costs.
Be wary of hidden charges. MyUS claims its charges are based exclusively on weight. However, based on its disclaimer, oversized goods larger than 72 inches are actually charged on dimensional weight.
International vs. Domestic Shipping
Domestic shipping is, of course, cheaper and faster than international shipping. With MyUS, you can quickly ship packages from the US to states within the country. To get an estimate, use the same calculator.
Just beware that some states can levy a sales tax. For instance, Florida sales tax might apply to your order and must be paid at the time of shipment.
Duties and taxes may also be applicable depending on the country of destination. These costs are not included in your MyUS invoice; you must pay them when your order arrives in your country.
Shipping Insurance
Even if the company hardly ever reports a missing or damaged shipment, it's best to insure your package so that you can file a claim in the event of loss or damages. You can add it during the checkout process.
Final Verdict: Is MyUS Suitable For Safe Shopping?
With over 20 years in the business, it's safe to say that MyUS is a reliable and safe package forwarding service. Customers around the globe have been using its services and are generally pleased. While there may be a few mishaps here and there, the customer service is reliable and will help ease any frustration.
» Save up to 80% on MyUS with CashYo
FAQs
All shipments on MyUS are insured for the total price of your items. Be sure to add insurance to the checkout process to avoid the effects of loss or damages.
How long does it take to ship from MyUS?
All shipping requests are processed within 2-3 business days, and depending on your location, you can expect your package in 1-2 weeks.
As listed by the MyUS terms & conditions: "Upon cancellation, MyUS.com Members will receive a prorated refund on the unused portion of their annual membership charge"