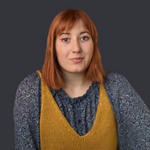 Viktorija Cosic
Expertise
Languages, Writing, Proofreading
Education
Master's Degree in Second Language Acquisition from University of Belgrade
Expertise
Viktorija Cosic is a skilled writer, linguist, and Second Language Acquisition expert. With a Master's Degree in Second Language Acquisition, she possesses a deep understanding of effective communication and language learning methodologies. Her proficiency extends to freelance proofreading, specializing in English and Italian texts. Looking forward, Viktorija aims to explore translation, utilizing her strong language foundation to facilitate cross-cultural understanding and bridge linguistic gaps. Her academic journey, marked by a commitment to linguistic principles and teaching methods, fuels her passion for facilitating effective communication. Through her freelance endeavors, she has finely tuned her teaching and proofreading skills. Viktorija's future vision involves harnessing her love for languages to become a conduit for intercultural dialogue and unity.
Quote From Viktorija Cosic
At any point in your life you can walk away. You can completely change your life in an instant, if you want to.
About CashYo's Editorial Process
At CashYo, our expert team of content researchers, writers, editors, and fact-checkers is committed to bringing you the latest e-commerce insights that will save you time and money and help you make the best online purchasing decisions. We conduct thorough research and draw our information from reputable sources, which we cite in our articles. Editors are responsible for reviewing each post to ensure its highest quality before it moves to our fact-checkers, who validate and verify all claims and facts. Check out our editorial process to learn more about what we do to deliver accurate, current, and reliable insights.
Latest from Viktorija Cosic